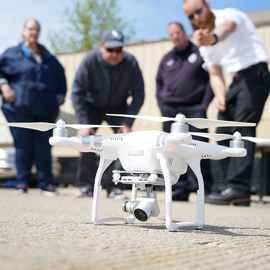 15 tips for beginner pilots
Categories

Blog

Date

August 25, 2020
Very well! You just bought a new drone and you probably want to try it. I understand your emotion, but do not despair about it. If it's your first time flying a drone, first you have to know some things before putting yourself into action. I will teach you in this blog some first tips to fly your drone to avoid that you have shocks that ruin your experience.
1.  Read the manual: Read the instructions that come with buying your drone. These instructions can also be found on the website of your DJI. I recommend you to look for tutorials on the internet, which can be very helpful too.
2. Use a flight simulator: Download the DJI Go app to learn the basic driving controls and some practical flight methods.
3. Beware of obstacles: There are certain objects that are very difficult to detect, such as crystals or electricity cables. For this reason, you should pay special attention to the ambient light conditions and the speed of your drone. With this in mind, you can make the right decisions to fly a drone.
4. Beware of animals: Be careful with some birds, because accidents with them are very common. In addition, avoid flying near other animals to avoid other possible risks of accidents.
5. Beware of people: It is advisable to fly in places where there are no conglomerates of people unless they are participating in the project, as dictated by the pilot license law issued by the FAA.
6. Pre-flight check: To have a safe flight you have to have everything prepared and checked before flying the drone. Calibrate the compass before each flight, check the battery status and if it is sufficiently charged and check if the propellers are installed correctly. Finally, keep an eye out for notifications from the DJI Go app.
7. Set the Return To Home altitude (RTH): We recommend making an RTH configuration with the objective of returning automatically when a preset altitude is reached. It is also recommended to configure it before taking off to ensure that the drone does not collide with any object when it is returning. Finally, avoid flying your drone outside of your line of sight.
8. Check the GPS signal: It is important to have a GPS signal strong enough to be able to fly safely without compromising your drone by loss. Therefore, we recommend flying when at least 10 satellites are recognized and the signal icon has more than 4 bars.
9. Float before taking off: After taking off, let your drone float for at least 30 seconds to check the stability of the device in flight. Once you confirm that everything is fine, proceed to raise your drone.

10. Practice mode for beginners: Activating the mode for beginners enables a range limit in distance and height, so that in this way you can learn about operations and controls without major risks. Use it during your first flights, before focusing on the observation and capture of landscapes.
11. Learn how the RTH works: When you activate the RTH during a flight, you will hear repetitive beeps, which notify you that your drone is returning to a previously configured "Home Point". It is much better if a strong GPS signal is presented.
12. Check the weather conditions: Be very attentive to weather changes and do not fly your drone in cases of rain, fog, snow or strong winds. Be careful with low temperatures, as they can affect battery performance.
13. Battery status: Always check the status of your battery and always leave enough battery to return your drone safely. Pay attention to the direction of the wind, because flying against it will make you spend more battery.
14. Do not fly aggressively: Press the controls gently and do not make sudden movements, with this you can have enough time to make adjustments to your flight and avoid collisions.
15. Flying in reverse: When your drone is in flight, and especially if you do not have your drone in sight, avoid flying in reverse, since you can collide with an unknown object.