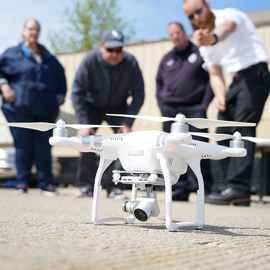 10 apps you can use for your drone
Categories

Blog

Date

August 25, 2020
The greatest use that is given to drones today is photography, either for professional use or as a hobby, and that is well known by different software developers who are aware and updated of the latest developments in technological advancement of the drones. Therefore, today I will give you
10 applications for your drone that can help you to learn to fly and take the most beautiful photographies!
Airmap
Airmap is one of the most common applications that you can find in the Play Store and is quite useful for both professionals and amateurs. Discovers and gets real-time feedback of airspace rules and conditions pertaining to your flight specifications, creates and manages your pilot profile and UAV aircraft, plans a flight path to specific duration, altitude, and airspace requirements, sends digital flight notice to participating U.S. airports, views publicly-shared flights happening around the world, among others.
Hover
Hover is a simple but very useful application that allows you to provide valuable information about the space you are going to fly, such as air traffic, weather, winds and even extra information about certain places, such as natural parks, so you can understand the flight status to let you know if its safe to fly your drone or UAV. An additional feature of this application is a news feed, where you can stay up to date with what's going on in the drone space with a live feed of content from company blogs, news blogs, and major media publications.
Google Maps
Google Maps is one of the best friends for photographers. This helps determine a plan in your photographic incursion thanks to the satellite view it offers, as it can help you find interesting perspectives of certain places that you can register later with your drone. Save the places of your interest in Google Maps and then go explore them with your drone!
Photopills
This is one of the most complete applications, as it has a large variety of tools and functions! In terms of flight and piloting, it offers you the complete properties of the Milk Way tool so that your drone has a safe travel route, a location guide that will help you fly over the best places and even has a view option in augmented reality. While for photography it offers a variety of light calibration options for dark days or even at night, filters, time lapse videos and information about weather events that are recorded in your area and you can capture, as well as general information.
UAV Forecast
UAV Forecast is one of the most complete applications in terms of local weather information. It gives you very detailed information about the temperature, wind speed, precipitation, cloudiness and the exact time of sunrise and sunset. All this information is collected and finally gives an hourly report that tells you if it is safe to fly or not. As an additional, its download is free!
B4UFly
B4UFly is an application generated by the FAA (Federal Aviation Administration), so it is only available to those who live or visit the United States. It contains all the legal information issued by the FAA for the use of drones in the airspace. It contains detailed information about all the places where it is allowed (and where it is not) to fly your drone. It also contains the location of the country's main airports and national parks demarcated within a 5 mile radius.
DJI Go
DJI Go is a multifunctional application with a large mosaic of tools that you can use for both flight, photography and general information. It has options for capturing images in HD views not only for taking pictures and videos but also for the live transmission of your trip, it has a modern route planning system for your drone and the Return Home Point function for you to have A safe and previewed flight. In addition, it has intelligent flight tools such as Follow me or Point of Interests so that you not only register different locations but can interact with them in different ways! It has varied flight tips and even a flight simulator to practice safely! All that and much more you can find in this app!
Tesla Field Recorder
As can be deduced from its name, this application measures the strength of the magnetic field of the place where you are. This application may be unusual, but there are certain places in the world where the magnetic fields are strong enough to destabilize the calibration and location system of your drone, making you fly practically blind. This application allows you to measure that field and tells you if it is safe to fly in that place, you can also share this information to the application platform so that other users can access and find out about the information you find.
Litchi
Litchi is an application that works as a complement to DJI Go. It contains a variety of functions for photography and flight such as Follow me, Orbit me, Panoram, Virtual Reality (VR), among others. It also has a sophisticated system for travel planning, where you can create the exact route over a certain place so that your drone travels automatically and, with that, you can concentrate in a better way on the image and video settings. It is an application that you can download for mobile phones, computers and tablets for a cost of $23.
Kittyhawk
Kittyhawk is an application specialized in pre-flight information, which provides you with complete information on the weather, the air routes in the area, non-flight locations, as well as defining the height and distance of your drone. Also provide greater transparency into the status of the aircraft's control system before a flight.
Do you know any other application? Let us know! Information based on: Expert Photography